775 students earned their bachelor's degrees
by Adam Grybowski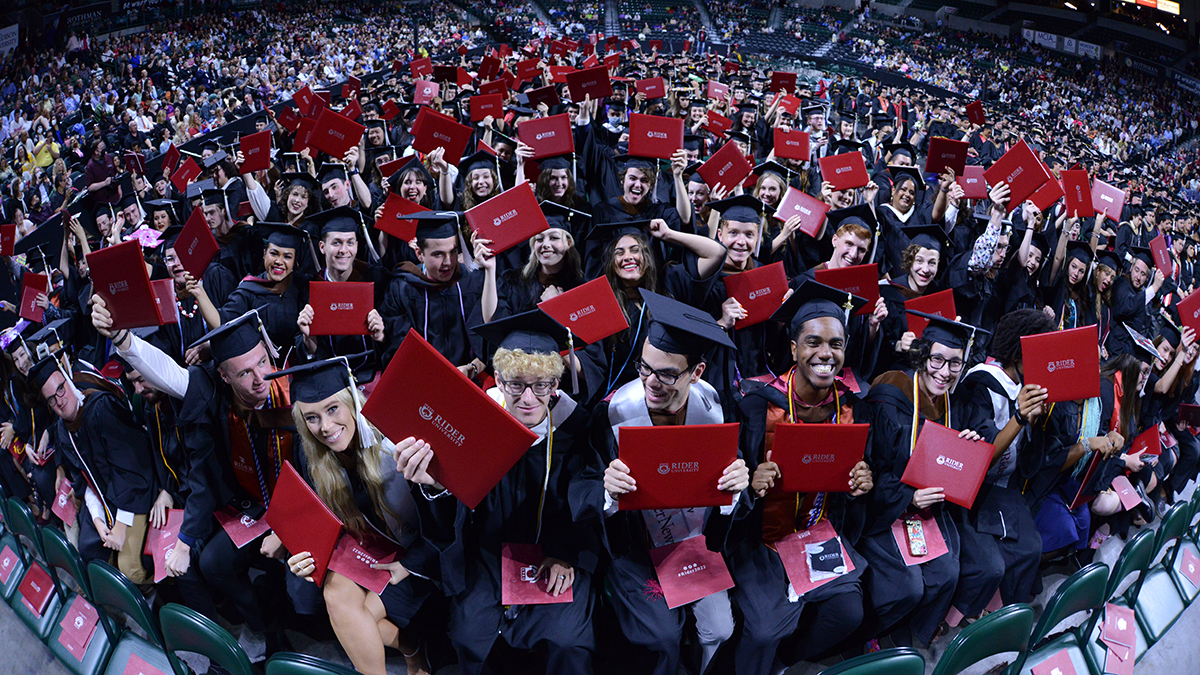 Rider University's annual undergraduate Commencement ceremony returned to Cure Insurance Arena in Trenton on May 14 as 775 students were honored for earning their bachelor's degrees.
In her introductory remarks, Provost and Vice President of Academic Affairs DonnaJean A. Fredeen said that what graduates have earned at Rider — knowledge, skills, experiences and relationships — are lifetime assets.
"They will help you manage the opportunities and challenges we all encounter and offer you the confidence to lead creative, responsible and gainfully employed lives – lives of limitless possibility," she said.
Rider President Gregory G. Dell'Omo, Ph.D., who did not attend the ceremony because he recently tested positive for COVID-19, recorded a message for the graduating class. "I'm sure today will be only the first of many proud and successful moments in your life," he told the graduates.
Entrepreneur Paul Muller received an honorary Doctor of Business. The owner of Team Toyota of Langhorne, Princeton and Glen Mills and the president of the Tri-State Toyota Dealers Association, he started his first dealership in Lawrenceville in 1983 and has purchased, opened and sold nine other dealerships since then.
"It's the journey that counts, not just the beginning or the end. That's what tells the story," said Muller, who studied political science at Rider before leaving after his first year for a three-year tour with the U.S. Army, including a year in Vietnam. Upon returning, he re-enrolled at Rider, and Paul and his wife, Beverly '71, started a family while they were both students. "You can change your path anytime you want. It's about the risk and reward, recognizing an opportunity when it presents itself and having the self confidence to do something about it. You can make your life anything that you want it to be."
Forty-one percent of the Class of 2022 is made up of underrepresented students. Although four of five graduating students call New Jersey home, a total of 19 states and two U.S. territories are represented among the undergraduate Class of 2022, including Hawaii, Puerto Rico and Washington. Eleven countries are represented among the class's international students, including Belgium, Venezuela and India.
Senior Juliana Ortiz delivered the student speech. A communication studies major who earned her degree nearly a decade later than planned, she had paused her education to care for her mother who was battling breast cancer.
"This pandemic birthed in us a spirit of resilience, strength, and perseverance," Ortiz said. "All I ask is that you don't let that spirit die here. Carry it with you in this next chapter that awaits."
https://www.rider.edu/about/news/class-2022-honored-during-annual-rider-undergrad-commencement-ceremony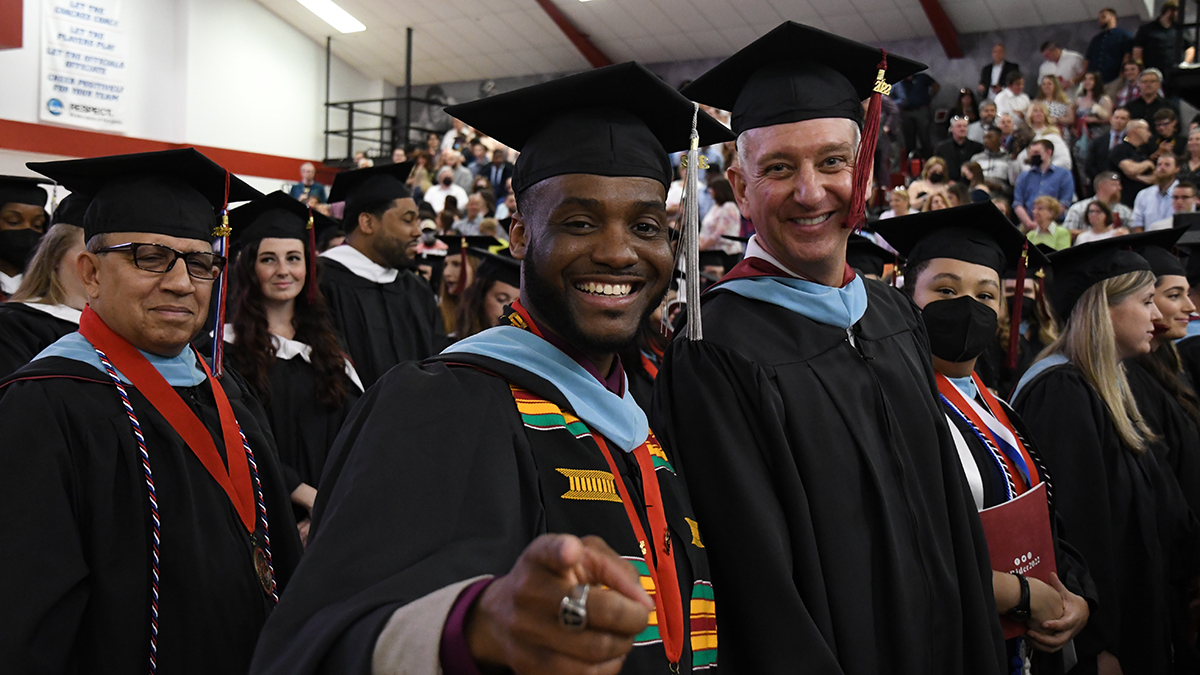 More than 400 master's degrees or doctorates were conferred during May 12 event
Rider University held its graduate Commencement ceremony on May 12, where more than 400 students were recognized for earning their master's degrees and doctorates.

"Your accomplishments make this an extraordinarily happy day for all of us," said Provost and Vice President of Academic Affairs DonnaJean A. Fredeen during the ceremony, held on Rider's campus inside Alumni Gym.

The event marked a return to a more traditional ceremony following delays and reconfigurations over the past two years because of the coronavirus pandemic, though it wasn't without interruption. Rider President Gregory G. Dell'Omo, Ph.D., who recently tested positive for COVID-19, did not attend the ceremony but recorded a message for the graduating class.

"I'm sure today will be only the first of many proud and successful moments in your life," he told the graduates.

Judith M. Persichilli '80, the commissioner of the New Jersey Department of Health who has helped lead the state's response to the pandemic, received an honorary Doctor of Humane Letters. In 1980, she received a Master of Arts in Administration summa cum laude from Rider.
In her remarks to the graduating class, Persichilli said, "You lived through a historic event. You've learned to be resilient and adapt quickly to the curveballs that have been thrown your way. What you have learned, I hope you will carry through your personal lives and careers. Understand that everything you learned at Rider will carry though in leadership positions as you move forward."
Jennifer Fiander '97, who received a master's of business administration during the ceremony, delivered the student speech. She completed a bachelor's in communication at the University 25 years ago while serving as the president of the sorority Zeta Tau Alpha.

"You've already proven you're capable of greatness," she said. "Your resilience and perseverance will carry you through when the work gets hard."

Although the vast majority of graduate students from the Class of 2022 were from New Jersey (79%), 19 home states in total were represented among the student body of this year's class, including Texas, Iowa and California. Four percent of the class hailed from outside the United States, including China, Norway and Saudi Arabia. Thirty percent were underrepresented students. More than a third of recipients (36%) had also received their undergraduate degree from Rider.

The graduate ceremony is one of three Rider is holding this year. Undergraduates are being celebrated on May 14, with a separate ceremony for graduates of Westminster Choir College scheduled for May 13.